People are always worrying about new content ideas. But how about optimising your current content for better results? Your existing content has the potential to grow your SEO performance and boost your conversion rates in the most cost-effective way – All it needs is a little refresh. To give you a helping hand, here are 6 tips on how to optimise content for SEO and more conversions.
1. Re-evaluate Your Focus Keyword/s
Most people see a keyword with a huge search volume and automatically think that it is the right keyword for their page or blog post. This is not always the case. You need to strongly consider your competition and your site's ability to rank. In other words, does your site have the authority and backlinks to take on those big keywords in your industry?
Take as an example, you want to optimise your post on the best horror books of all time. Your site is fairly new with a low amount of backlinks and authority. There are a number of keywords you can target for this page: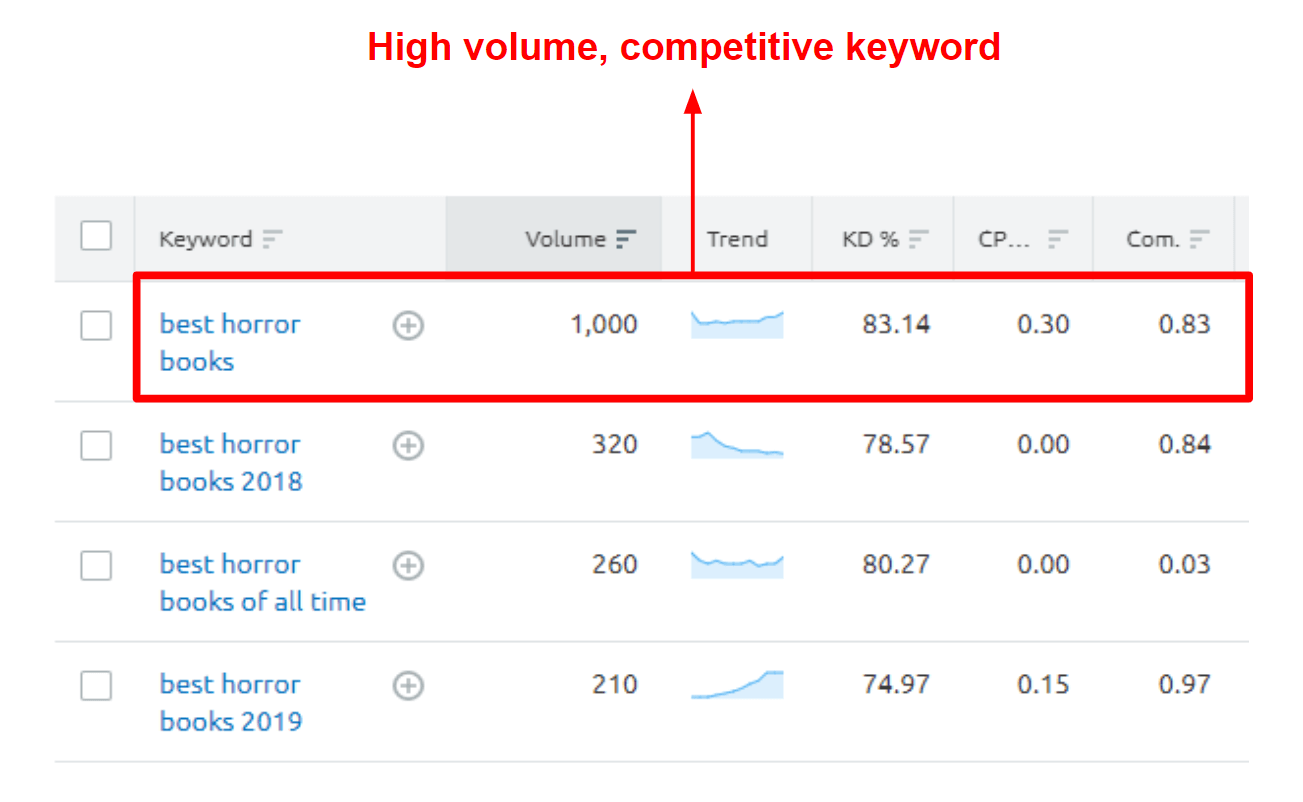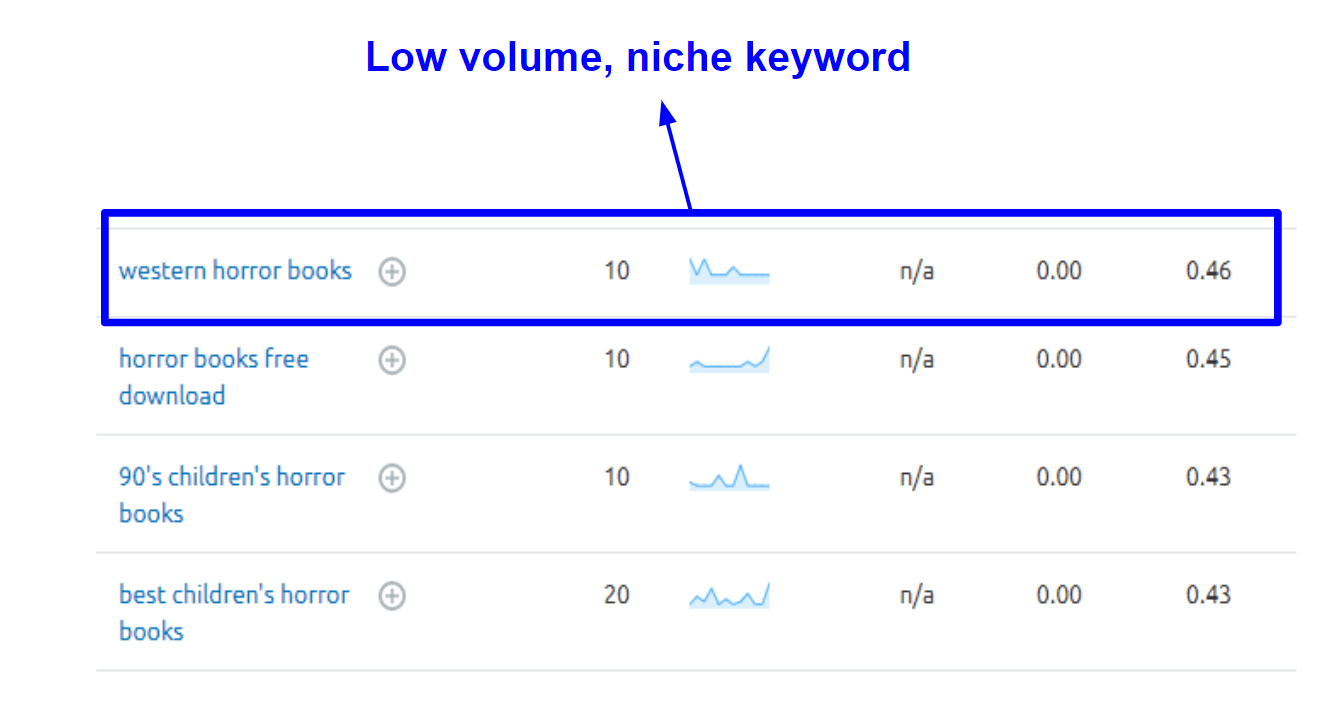 But as a new site, you probably should go for the low volume, niche keyword as here you will have a higher chance of ranking in the top 10. But how do you determine your site's ability to rank? One way to do this is by searching for your focus keyword in Google and seeing how many sites currently include your focus keyword in their page title. This is one indication of other sites targeting the same keyword as you: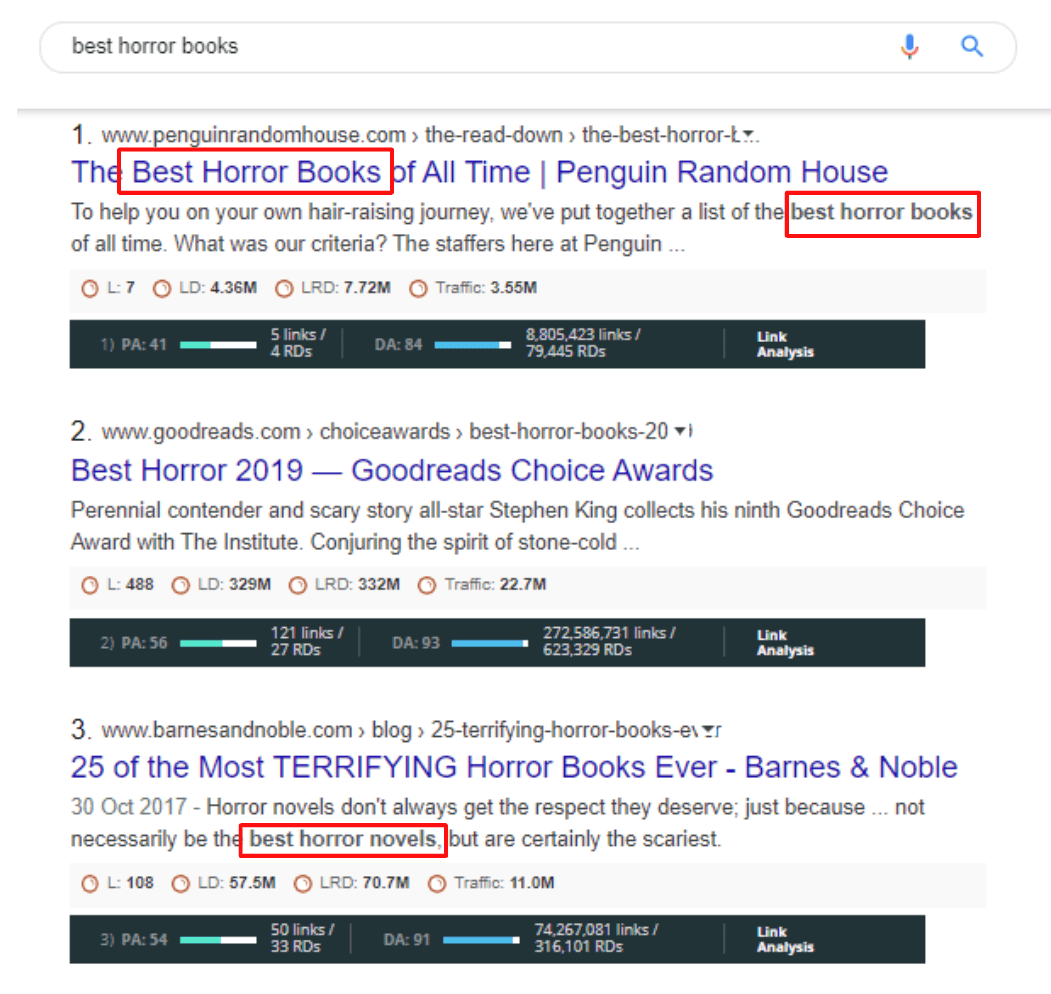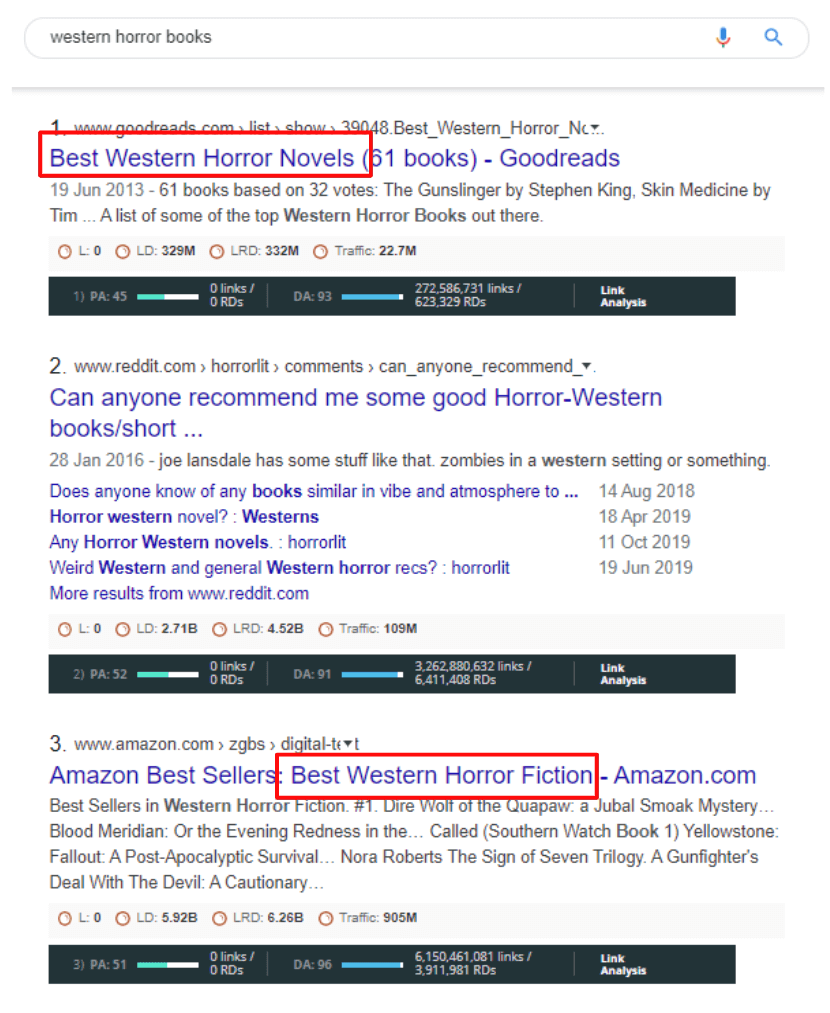 You can also look at the average amount of backlinks the pages ranking on page 1 have and see how your site compares to them. The Mozbar Chrome add-on is a really useful tool for this.
Another sign of an easy-to-target keyword is when you see forums like Reddit appearing at the top. When forums or chat room questions rank at the top this is an almost clear indication that there are no other relevant pages to show. This gives you a sweet opportunity to swoop in and take that keyword.
Alternatively, there are sites out there that don't even think about their focus keyword at all. Their website content could be targeting keywords with no search volume at all. If only they chose a keyword with a decent monthly search volume, their organic traffic could drastically increase!
Take for example, is it worth targeting a keyword like "Best horror and thriller books", which has no search volume? When you could target a keyword like "Best Scary Thriller Books", which has a monthly search volume of 10? And if you're really brave you could target the keyword, "best British psychological thrillers books" – This has a monthly search volume of 90.
So you see focusing on the right target keyword could make a world of difference to your organic search performance.
2. Bulk up Your Content
Chances are your old content is likely to be on the thin side. When you first started writing content, you probably wrote about anything that came to mind and didn't really research your competition. Now years later your thin content has no value – competitors have published long-form content and ultimate guides on almost every topic in your industry. And this has dragged the performance of your content down, right to the bottom of the ranks!
To give your content a much-needed boost, depth is essential. Don't skim through content using flowery language with no value. Dig in deep and give your users something worth reading. Let's say you have an old blog post, around 300 words on planting tomatoes seeds. This is probably not enough information for your readers. So go back and include details on the best time to plant tomato seeds, how to select the right soil, caring for your tomatoes as they grow and any other details.
You can use a keyword research tool like SEMrush to understand the common problems or questions your users might have and address these in your post: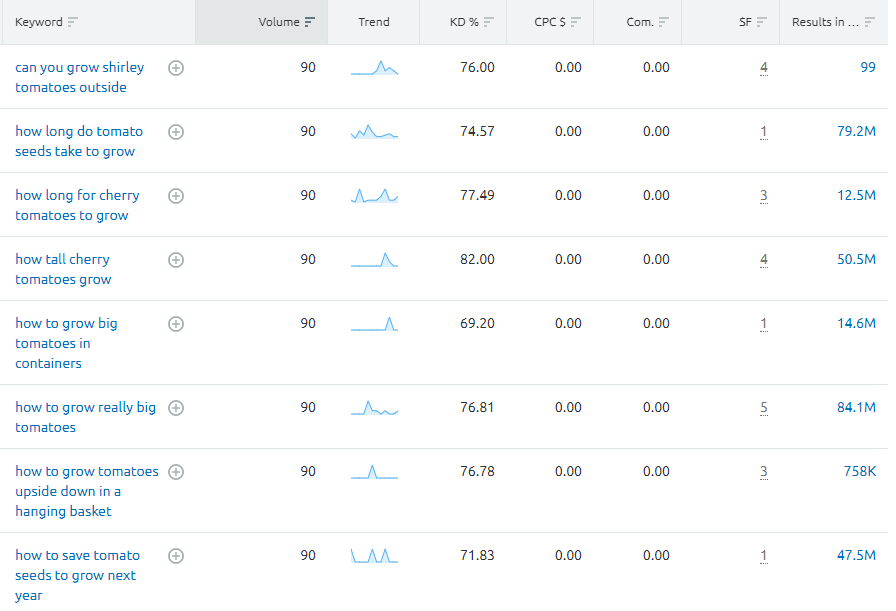 By bulking up your content, this not only shows your deep expertise in a particular area, but it also allows you to target a variety of keywords and not just one or two. This is a great way to increase your organic search traffic in the easiest way possible!
3. Spread Some Link Love
How often do you link internally to other pages or posts on your site? Many website owners stress over getting as many backlinks as possible and completely forget about growing the easiest links of them all – Internal Links! One of the reasons why internal links are important to SEO is because they show search engines the importance of a particular page on your site. A page with lots of internal links tells Google that this is a very important page and therefore should receive a slight ranking boost for relevant queries and vice versa.
To identify pages on your site with low amounts of internal links, you can use the Google Search Console links report and sort the list by the number of internal links: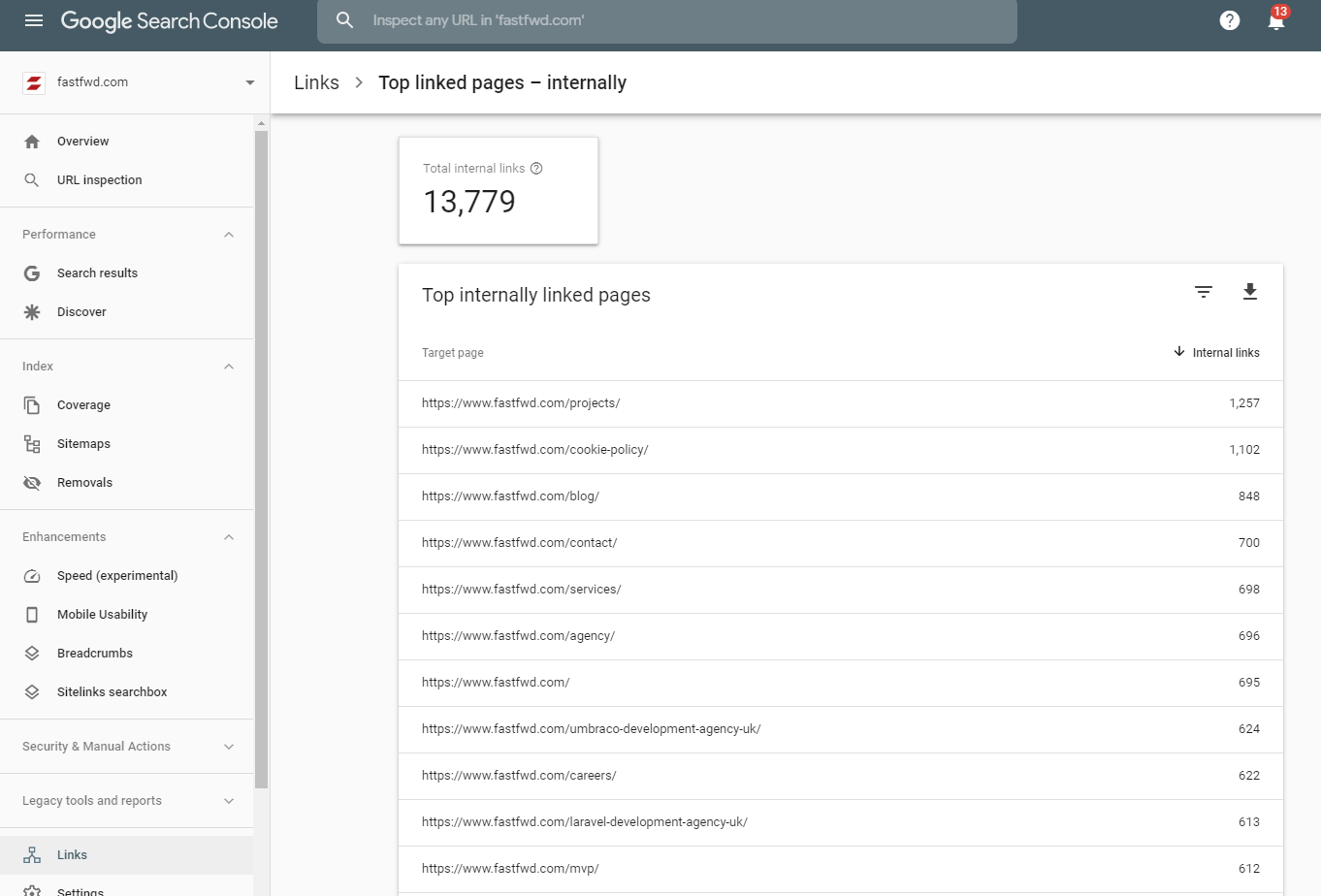 Once you identify the important pages on your site with low numbers of internal links, you can then start looking for relevant internal linking opportunities. For example, if we wanted to build internal links for our Laravel development page, we can search for mentions of this keyword on our site using the "site:" query in Google: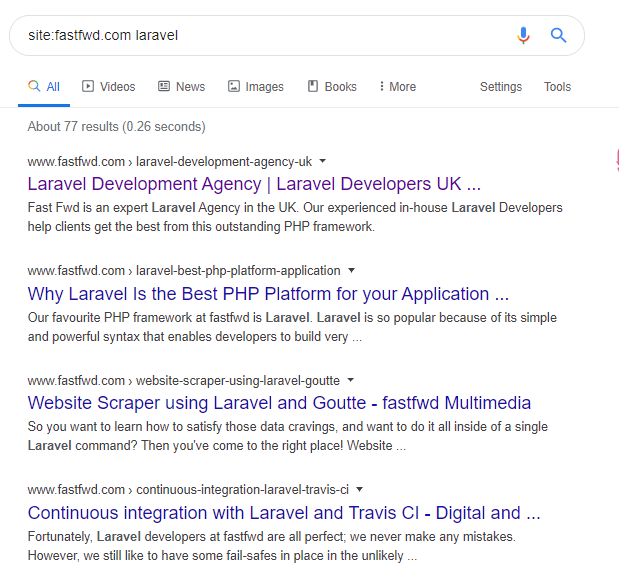 This gives us a list of relevant pages where we can include links to our Laravel development page. Internal linking is one of the easiest and quickest ways of boosting your SEO rankings in Google. It sure beats doing nothing!
4. Sprinkle In Some Keyword Variations
You may have noticed pages ranking at the top of Google that look like they don't have a focus keyword. But in actual fact, they probably do in the form of keyword variations or LSI keywords. LSI keywords are keywords that are related to a particular search query. Take the following search query as an example: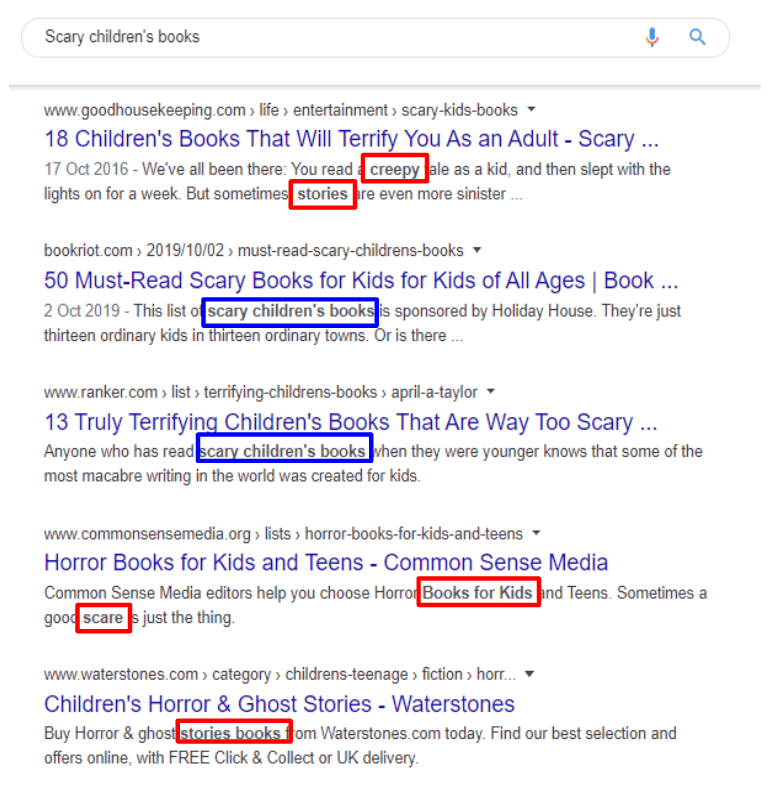 Google has bolded out a number of keywords. The keywords highlighted in blue, exactly match our search query. However, the keywords in red are words similar (or related) to our search query. These are known as related keywords. Google uses related keywords to better understand the overall context of your page.
So if your page includes the exact search query and then a whole bunch of related keywords, this tells Google that your page is clearly relevant to the search query: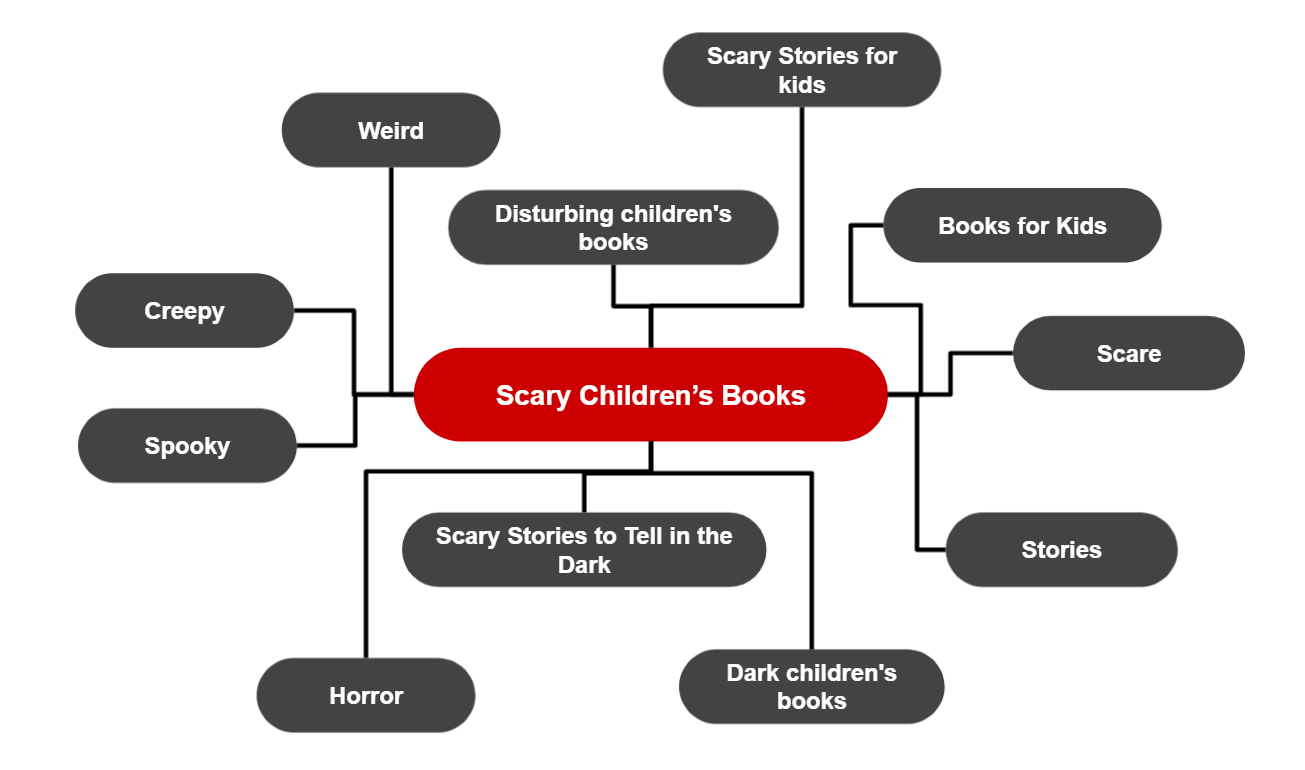 So if your blog post was about scary children's books and you sprinkled in some related words like creepy, horror and dark throughout the post. This would lead Google to believe that your blog post really is about scary stories for kids and for that reason should be ranked at the top for the query 'Scary Children's books'.
You can identify related keywords by either:
Searching for your focus keyword in Google and looking out for the bolded keywords.
Or using a tool like LSIGraph to give a list of related keywords.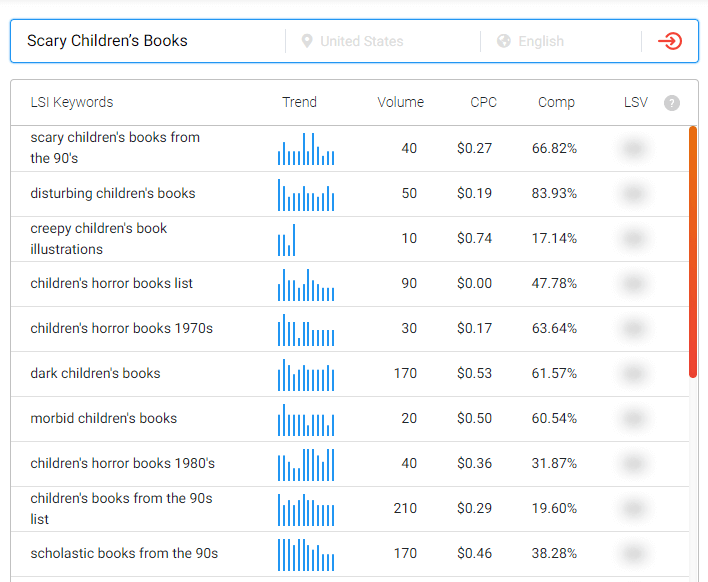 As you can see keyword research is not as simple as it used to be. Today you have to consider your focus keyword carefully, long-tail variations of your keywords and even related keywords to conquer the search results! At this point, it might be a good idea to invest in a keyword research specialist who can identify all the right keywords to target for your site and how to use them in your content.
5. Experiment With your Page Title
When it comes to optimising your content for SEO, the page title tag is probably the most important ranking factor to consider. In fact, the slightest change in your page title can greatly swing your ranking performance for a particular keyword. So, if there's a keyword that you really want to rank high for in Google make sure it's in your page title tag.
Just take a look at the top-ranking results for this search query: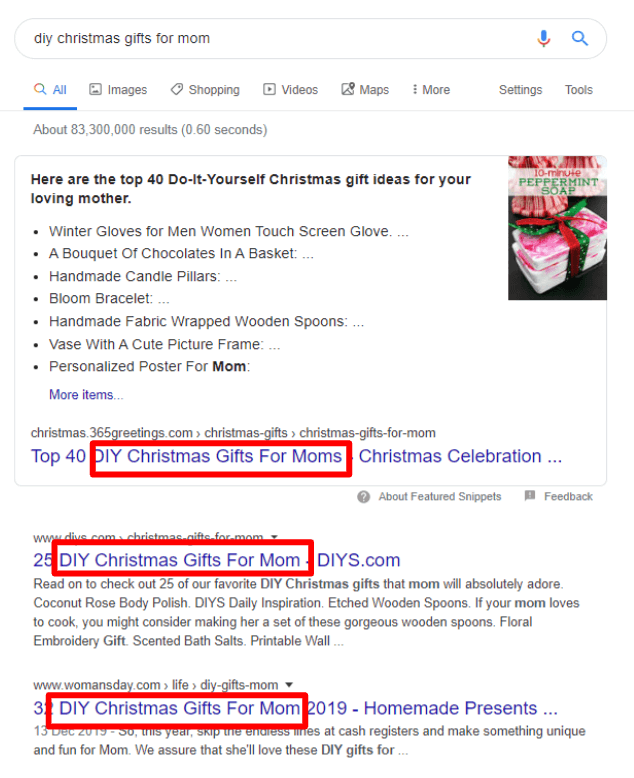 The focus keyword is clearly in the page title, helping both users and search engines see the relevance of these pages. But it's not always about just including the focus keyword in your page title! Sometimes it's about improving the click-through rate (CTR) of your result. In which case you might add some extra enticing words:

Or a cute little emoji to get the searcher's attention:

Click-through rate is another important factor in improving your ranking position. So if you feel that your page title has all the right keywords, then the issue could be down to your snippet's organic CTR. To identify pages on your site with a low organic search CTR, you can view your Google search console data. Filter your keywords by the top 5 organic results and then order by impressions: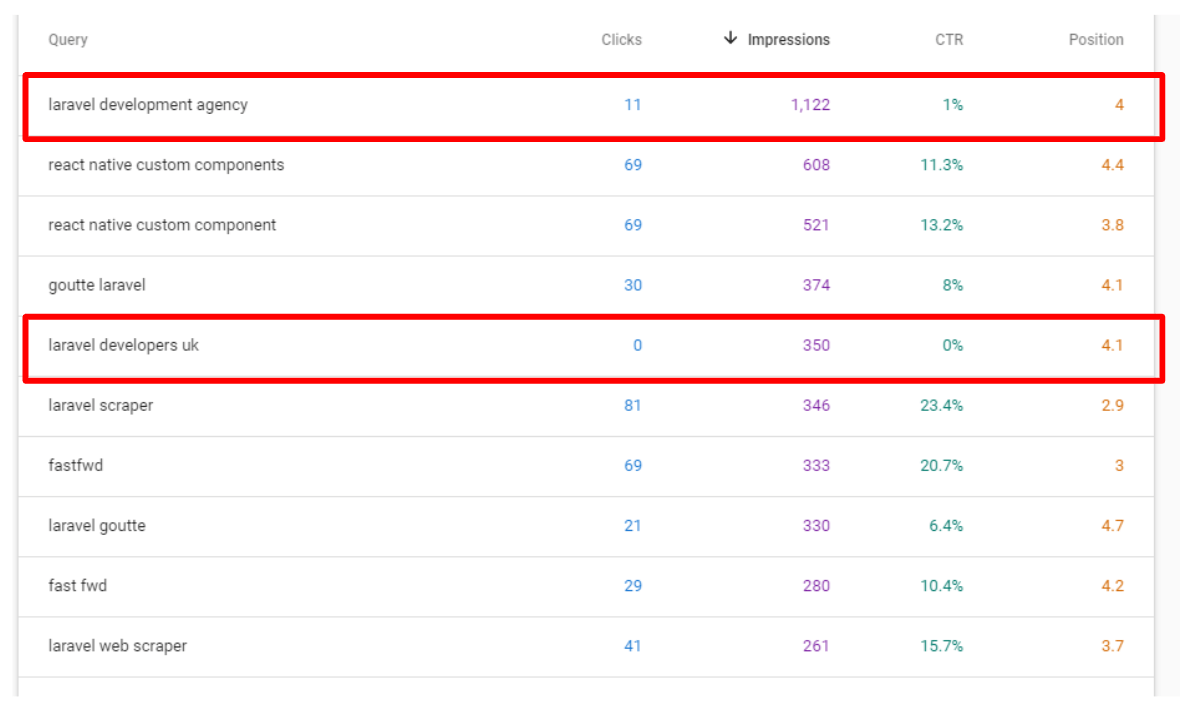 This will show you your top keywords with a low CTR. To fix this issue, experiment with words, emojis, keywords – anything to make your result snippet stand out from your competitors. And just then maybe you'll be in that prestigious number one spot on Google! This really is the best way to optimise content for SEO.
6. Don't Forget Your Call to Actions (CTAs)
Optimising your content isn't just about ranking at the top of Google – It's also about getting those all-important website conversions! Whether you want more people to share your post or want more members to join your site, CTAs are important. This refers to both in-text links and buttons on your site.
A good call to action is clear and actionable. It clearly tells the reader what to do at the right time in the content. For example, take a look at this post on the best hair dryers for curly hair: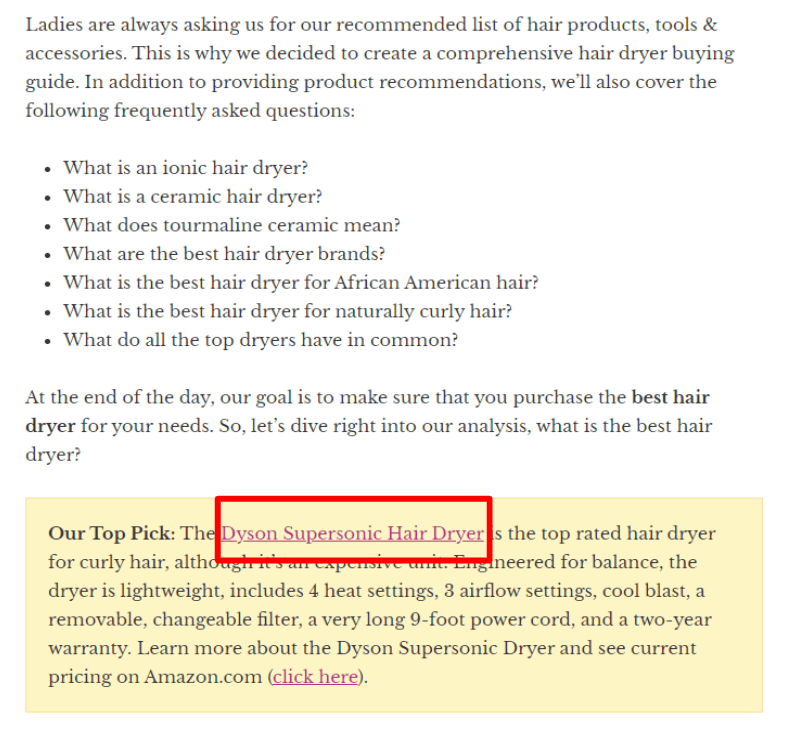 After their review, they include a clear CTA of their top-pick hair dryer linking to a page where the user can buy the hairdryer. This not only boosts your conversion rates, but lowers bounce rate and increases time spent on site. These are all factors proven to indirectly impact your SEO rankings and performance in the long-term.
If you're on a mission to optimise your content for more conversions, then the best place to start is by looking at your Google Analytics data. Focus on pages with a low conversion rate and review pages with high conversion rates to understand why they are doing so well. If you don't have enough data on conversion rates, you can take a look at the bounce rate of your pages: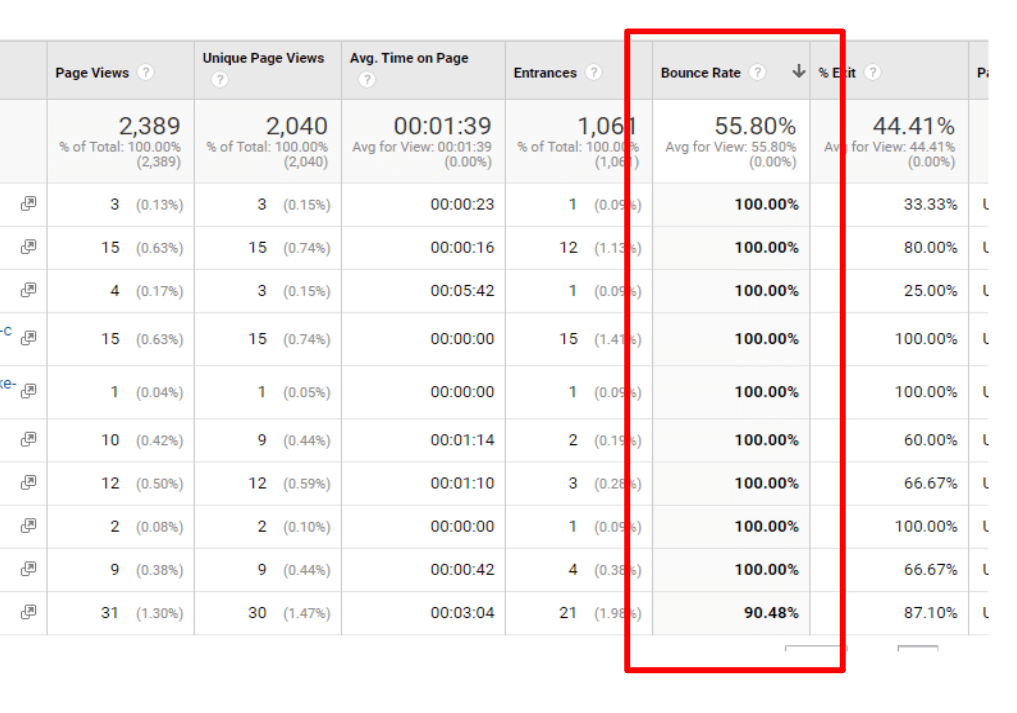 Is there any way you can lower this bounce rate? Maybe you need to include some relevant internal links or change the wording of your call to actions? Remember a good CTA is nothing fancy, it could be a simple "Buy Now" or "Get a Free Consultation" – Anything to move your user to the next stage in their buyer's journey.
Content optimisation is a brilliant way to drive more organic search traffic to your site and boost your conversions. But it can get overwhelming trying to optimise hundreds or thousands of pages on your site. If you need help or guidance in optimising your content, please take a look at our content marketing services.