Update: This app is now retired. Thanks for all your support!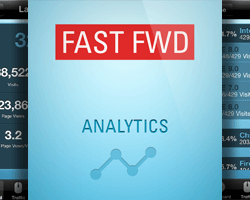 I just wanted to take a moment to mention that our very own Google Analytics iPhone App, has reached 12,000 users globally.
Fast Analytics is the premier app for viewing website visitor statistics on your iPhone. It is powered by Google Analytics, and Google have featured us in their mobile gallery here.
The app gives a simplified view of all your key visitor stats, so you can keep track while on the move. Many industry insiders use the app, including SEO gurus and other web development companies. Some examples of the great feedback we've had on the app store:
This is one of the first reviews I've ever left. This app is well made and such a huge timesaver… A must have for keeping check on lots of accounts.
44Laura44 – 21 Oct 2011
This is just what I was looking for. Super easy, great to use and FAST! I've got many other analytic apps but this is easily the best. The data this gives you is easy to understand and direct. Great stuff!
doone128 – 29 Jan 2012
Thanks to all of our customers for their continued support of this fantastic product.