Hopefully, now that your website is appearing somewhere on Google, you now want to improve your ranking in Google. But what exactly affects your position in search engines?
This is a really difficult question to answer. According to various sources, there may be over 200 ranking factors which can influence your position in Google. Even if you tried to list every single ranking factor, you will still never know why certain results appear in the number one position and why others don't. The answer could be dependent on a search query, competitors, link authority etc.
However, we can remember one thing: Google aims to provide searchers with the most relevant content based on their search query. And with every update, Google is trying to combat spam and provide its users with natural results that answer their questions. Saying that there are definitely some things you can do to improve your chances of ranking high in search engines.
The key is to remember there are three main areas that should be considered when carrying out a sites SEO, This can be displayed using the SEO triangle model that we have developed to explain SEO a bit better: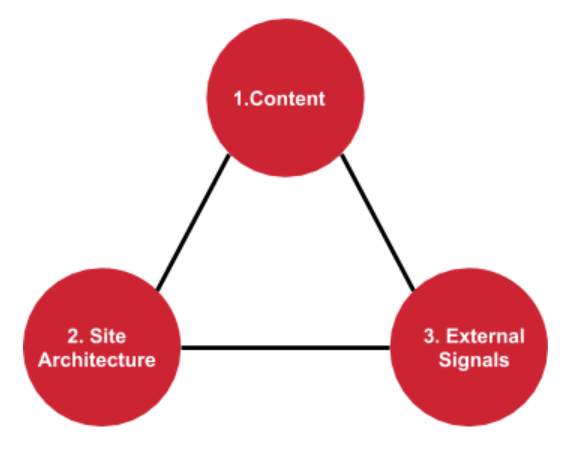 All three components of the SEO triangle are required for your website to rank well in Google:
Content
Also known as on-page SEO.This is all about creating quality content that is easy to read for users and search engines. It is also refers to using the right keywords that are relevant to your target audience.
Site Architecture
Or as sometimes called technical SEO, relates to the way a website is built and how easy it is for search engines to crawl.
External signals
Otherwise known as off-page SEO. This simply refers to external links that link to your site (backlinks). Backlinks act as recommendations for search engines. The more quality backlinks your website has, the higher the chances of ranking high (more on this later). We also include other external sources such as brand mentions, citations and third-party NAP (Name Address and Postcode) data that search engines may use.
In the next few sections, we will explain each of the above in more detail with practical tips on how you can optimise your website for search engines. Please remember that these are some very basic tips to improve your chances of ranking high in Google. This is not a concrete list of things to guarantee that you rank number one.