Over the past 12 months, the main traffic generation sources in the solicitors sector (top 20 players) include Organic Search and Direct traffic:

On average, we can see that the split between Direct and Organic Search traffic is around 38.7% for Direct traffic and 53.9% for Organic Search:

This shows the importance of both brand awareness and a good SEO strategy for conquering in the solicitors market.
Interestingly, paid social, display ads and email are the least utilised traffic sources in the solicitors market.
Large Sites (1 Million+ Visitors)
When it comes to large sites in the solicitors market, we can see that Organic Search and Direct is a dominant strategy used by these big players. On average, traffic to large sites is made up of over 37% of Organic Search traffic, 54% Direct and 5% Referral.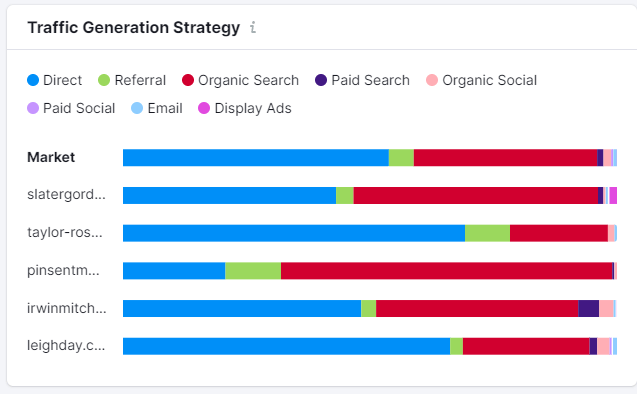 Large sites are sites that receive over 1 million users in traffic in 12 months.
In general, Paid traffic (Paid Search, Display Ads & Paid Social), Email and Organic Social are areas which are un-utilised by most websites in the solicitors sector.
We can also note here that large sites get more referral traffic compared to smaller sites listed below. It seems that referrals are a key part of maintaining a large amount of traffic to a website. See section on referral traffic below.
Semi-Large Sites (500k - 1 Million)
Semi-large websites in the solicitors sector tend Organic Search dominant in their traffic generation strategy. Here 67% of traffic comes from the Organic Search, 26% comes from Direct users and 5% from Referral sources: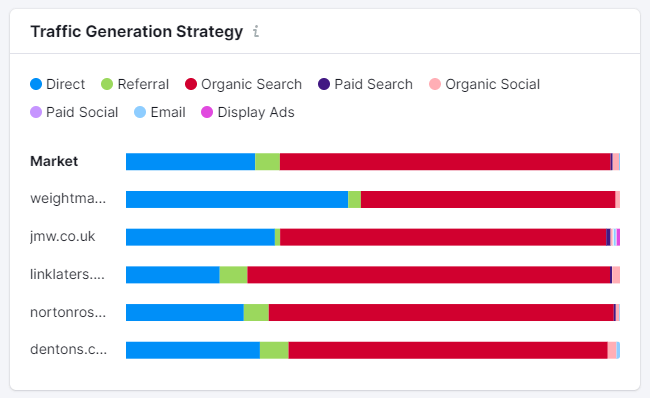 Interestingly, JMW also gets 1.5% of traffic from Display Ads (unlike the other competitors), and none of the competitors utilise the Paid Social channel in this group. 
Medium Sites (100k - 500K)
Medium sites with less than 500,000 traffic a year again rely on a mix of Organic Search and Direct as the main traffic sources. Their traffic sources are much less varied than large and semi-large sites, with 40.5% coming from Direct, 56.2% coming from Organic Search and 3% coming from Referral and 0.3% coming from Organic Social: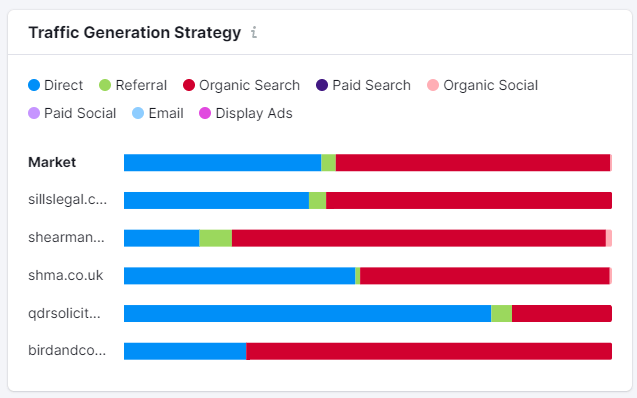 Interestingly Bird and Co Solicitors gets 75% of traffic from the Search channel and the remaining 25% from the Direct channel. Their traffic generation strategy does not make sure of any other channels apart from Search and Direct.
Another interesting point here is that Shearman and SHMA are the only competitors that utilise the Organic Social channel. While the Paid Search, Display Ads, Paid Social and Email channel are the least utilised channels in this group with none of the sites using these.
Semi-Medium Sites (10K - 100K)
Sites with less than 100k traffic in the solicitors sector are very dependent on Organic Search when it comes to traffic generation. Over 66% of their strategy is made of Organic Search traffic, while only 21% is from Direct:
Small Sites (<10K)
Sites with less than 10,000 traffic a year in the solicitors sector are more likely to use Organic Search as part of their strategy. On average 64% of their traffic comes from Organic Search, while 25% is Direct traffic: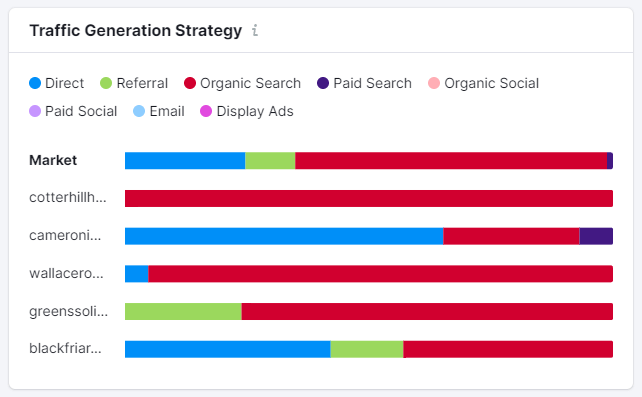 Interestingly it seems that small sites in the solicitors sector are more likely to use the Paid Search channel as a traffic generation tactic compared to larger sites. In fact 7% of Cameron Intellectual Property's traffic comes from the Paid Search channel.
Overall, it seems the smaller the law firm is in terms of traffic to site, the more likely they are to utilise Organic Search as a key traffic generation strategy.
For small businesses on a limited marketing budget, Organic Search can be a cost-effective way of generating brand awareness and traffic generation for the site.