We see a lot of hotels and holiday companies putting together "local information" – however what we don't see is why this area of content has to be limited in the travel niches. At the same time not all Travel sites do this, or do this well. A travel site that we work with has decided to cover all local attractions, shops and events – and do it very well. 40% of the traffic it currently gets is due to this content – and as such it has really boosted its brand recognition, and links from other sites that appreciate the information.
Businesses that are brick and mortar could easily pick a lot of transient traffic and links by ranking for local information, thereby increasing their local branding and awareness.
A dentist that works close to a number of hospitals and doctors could easily rank on the first page for their names, and as such exposing their dental brand to searchers. There may be no direct sales value, but there are arguments for transient brand building that could lead to longer term impressions.
There is NO reason why a local business can't rank for local queries like the one below:

Some examples of the type of content that could fall in the "local information" type of content could include:
Things to do
In terms of travel sites, this is a fairly easy task – but depending on the type of business, things to do could vary from niche to niche. We think businesses such as restaurants would benefit from creating a hub of content around local things to do, from markets to museums. A hairdresser may want to cover all the local coffee shops, libraries, and even complimentary services such as nail salons, beauty shops etc. Take a gander on SEMrush the variation and volume behind this phrase. Sites that rank for this long tail phrase kill it in their niches, and of late both Tripadvisor and Google are jumping on the band wagon: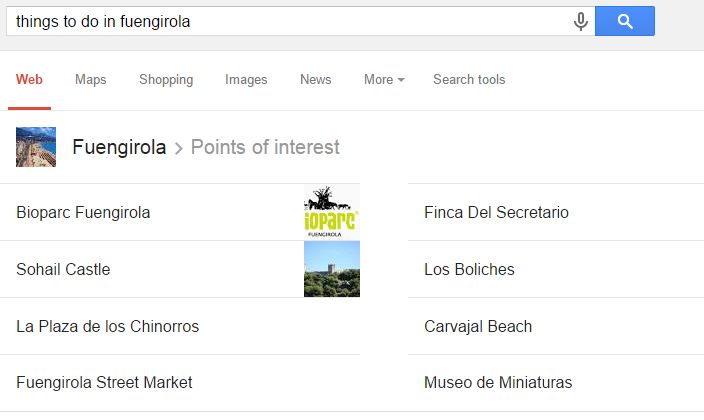 Local Services
Most brick and mortar businesses can cover local services – from local post offices to police stations, from hospitals to taxi services.
The more that a business can cover, the more likely it builds up its local relevance (always an issue when content for SEO purposes is concerned), while at the same time may attract links from other local sites. A fairly enterprising florist that I worked with a while back really took this to heart and built up a mass of local content and then went off and contacted all the local businesses with websites, and asked them to link to him as a complete resource.
Although not contextually relevant, (i.e. floral services) the strategy paid off because his site became locally relevant, and got a boost in domain authority. As a result he killed it in local serps after a few months, as well as getting a massive short term boost in more than just local rankings, but these tapered off after a while, still keeping his local rankings miles better than when he started:

Local Transport
We are amazed at how many "hard to get to" businesses don't cover directions and local transport – places such as restaurants and nightclubs have these as a norm, but we don't see why every real business can't have local transport featuring on their sites.
Again, these may help build up local relevance, while improving user experience.
Local History
I used to go to a pub in Marylebone in central London – it was local, but what's more, it had these amazing shots of the area before it was completely built up. The pub has changed hands since, and the pictures no longer hang on the wall, but it would have been nice to preserve local history of the area – if not on the physical walls, then on their website.
Local history is always a point of pride for local businesses – then why don't these businesses spend time putting together information on the local history? For example, many pubs and restaurants have been built in old factory mills, abandoned warehouses etc – adding history makes the business a lot more interesting.
And it's the kind of stuff regular customers usually love to know.
Local Events
Working with local business groups is usually a good idea and covering local events isn't a bad one. One Indian restaurant I used to work with many years ago used to have a full list of events in nearby Wembley arena – and often used to get search engine traffic as it used to rank well for those events long tail phrases.
As a result, they had increased their visibility in front of people attending the area, who may have not heard of them.
Directories
It may sound old hat, but there are still many sites that would benefit from developing well edited unique directories of services that their readers may be interested in. Not only could these be additional revenue sources, but they could drive a lot of long tail traffic if done right.
For a couple of hotels we are working with, we are building out a local business directory section for – and already the interest to feature in them by these businesses is quite high.